Cradlepoint R500-PLTE Series Ruggedized Router

Compact, ruggedized Private LTE (PLTE) router for advanced connectivity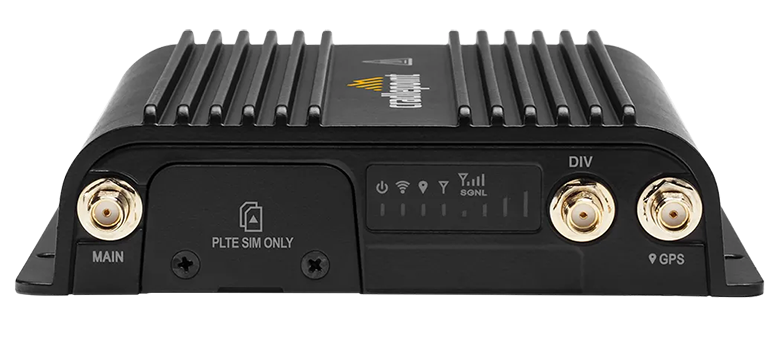 Cradlepoint Products
NetCloud IoT Plans
NetCloud IoT Essentials Plan for Private Cellular Networks, and R500 Router with Wi-Fi (300 Mbps modem), with AC power supply and antennas, 3 years
#TD03-0500C7C-NN
Our Price: $626.00
NetCloud IoT Essentials Plan for Private Cellular Networks, and R500 Router with Wi-Fi (300 Mbps modem), with AC power supply and antennas, 5 years
#TD05-0500C7C-NN
Our Price: $790.00
NetCloud IoT Essentials Plan, Advanced Plan for Private Cellular Networks, and R500 Router with Wi-Fi (300 Mbps modem), with AC power supply and antennas, 3 years
#TDA3-0500C7C-NN
Our Price: $831.00
NetCloud IoT Essentials Plan, Advanced Plan for Private Cellular Networks, and R500 Router with Wi-Fi (300 Mbps modem), with AC power supply and antennas, 5 years
#TDA5-0500C7C-NN
Our Price: $968.00
Click here to jump to more pricing!
Overview:
The purpose-built router
Cradlepoint endpoints provide industry-leading LTE connectivity as well as Ethernet and Wi-Fi. These purpose-built endpoints are sold with a subscription to NetCloud Service for IoT which provides streamlined configuration and continuous cloud, modem, and router software feature enhancements.
The R500-PLTE router with the Cradlepoint NetCloud Service for IoT is a purpose-built, low-cost User Equipment (UE) networking solution with industry-leading features for Private Cellular Networks (PCN). It is a compact, ruggedized solution for deployments in manufacturing, distribution, transportation, education, and others taking advantage of the lower fixed operating costs, enhanced data security, and improved network performance a PCN provides.

Firewall Throughput:
850 Mbps

WAN Connectivity:
PLTE Cat 7, GbE

LAN Connectivity:
Wi-Fi 5, GbE
Management:
NetCloud
Notable Features
Deploy a competitively priced value-driven Private LTE (PLTE) networking solution with industry-leading features
Define policies through centralized cloud-based management for easy deployment at scale
Use an FCC Part 96 authorized end-user device for Band 48 OnGo CBRS networks
Install a compact and ruggedized router in a wide range of environments where connectivity must be reliable
Deploy Wave 2 dual-band, dual-concurrent Gigabit Wi-Fi for the best possible connections
Add a second cellular modem, with an Extensibility Dock, for multi-link capability to both the private and public network
Expand with custom solutions using GPIOs, NetCloud SDK and API, and NetCloud Edge Connector for Azure IoT Central
Ideal for Private Cellular Networks
The R500-PLTE is purpose built for PCN deployments. It is an FCC Part 96 authorized end-user device for Band 48 OnGo CBRS networks providing a competitively priced compact and ruggedized PCN UE solution. The R500-PLTE accommodates a wide range of environments while delivering enterprise-class standards of reliability, scalability, comprehensive management, and security
Ruggedized IoT Solution
The R500-PLTE includes advanced connectivity options with a Cat 7 LTE-Advanced modem, gigabit Ethernet, Wi-Fi 5, GPIO ports, and GPS. It provides a ruggedized enterprise class networking platform that can be confidently deployed in environments such as smart cities, mining, oil and gas, shipping ports and logistics, as well as education for students and teachers. Combined with NetCloud Service for IoT, the R500-PLTE delivers complete visibility, security, and control together with health and status alerts on security posture, network conditions, and usage for connected devices anywhere
Performance
---
Max Router Throughput:
850 Mbps
IPSec VPN Throughput:
30 Mbps
Concurrent VPN Tunnels:
10
Concurrent Sessions (TCP):
16,000
Performance testing was conducted based on requirements as defined in RFC2544 using fixed-frame 1518 byte packets. Throughput results reflect unidirectional UDP traffic with less than 1% packet loss as tested with wired connections.
Results do not reflect performance of the cellular wireless operator networks.
Features and Benefits:
Key Software Capabilities
Cradlepoint NetCloud Service provides powerful centralized management for every Cradlepoint cellular-enabled router, including the R500-PLTE. NetCloud Service allows customers to build and manage wireless WANs with complete lifecycle management, zero-touch deployment, robust security, and traffic management for optimal application performance and reliability. The cloud capabilities include group policy definition, reports, troubleshooting, and analytics dashboards. The service includes a warranty for as long as the router has an active subscription, online training, live and online support, and software and firmware updates.
Cloud Services
NetCloud Manager delivers zero-touch deployment with the ability to define and deliver policy across entire groups of endpoints. Users can gain insights and analytics required for rapid troubleshooting and diagnostic workflows. Location services provides last known map location and geofence alerting for loss prevention and physical security.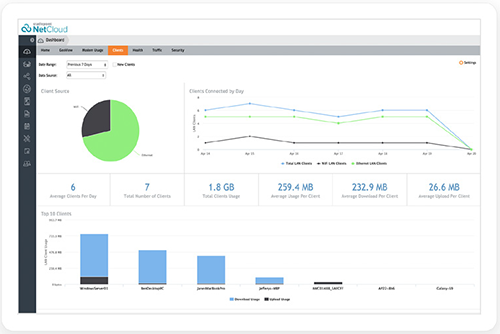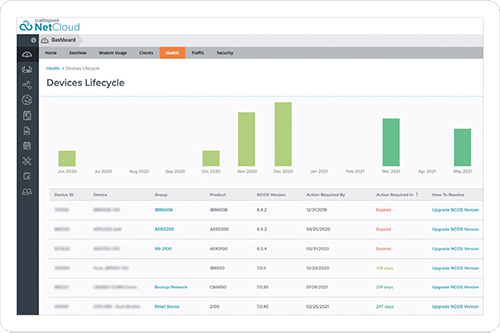 Advanced Software Lifecycle Management
NetCloud improves the typical software lifecycle management process. New features are continuously delivered to the NetCloud Service and available for the router without interrupting network performance. Software versions are tracked for every endpoint, with the latest version just a click away. Straightforward subscription and license management is provided to keep the network running without interruption.
Cradlepoint Verify™ Mobile Application
As an extension to NetCloud, Cradlepoint Verify is a mobile application that simplifies setting up Cradlepoint endpoints with easy, customized steps specific to the R500 router. Upon a verified installation, users receive a detailed report that includes installation pictures, speed test results, and modem health metrics.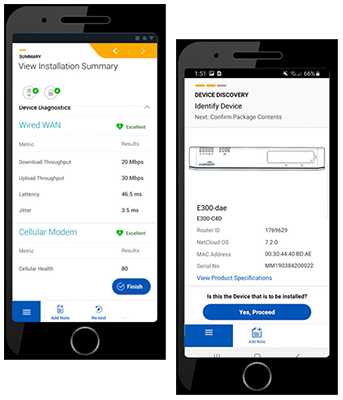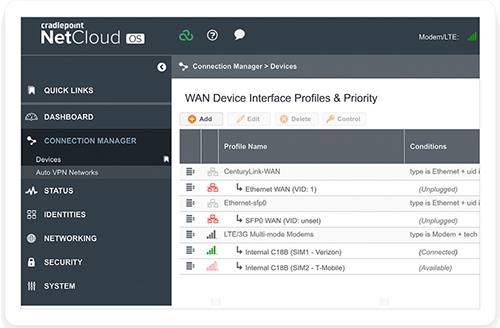 Connection Manager
Connection Manager provides the ability to manage all WAN connection types including wireless, Wi-Fi as WAN, and wired, from a single software-defined policy. Our proprietary modem software ensures users establish Wireless WAN connectivity faster while maintaining the highest level of resiliency.
Specifications:
R500-PLTE Series Ruggedized Router Specifications

Category

IoT

Cloud Management

Yes

Wireless Connectivity

Private LTE Cat 7

Form Factor

Ruggedized Metal

Ethernet Ports

2 x GbE RJ45 (LAN/WAN switchable)

USB Ports

1

Dual-Modem Support

Yes with COR Extensibility Dock

Network Operator Standards

FCC Part 96

Network Operator Certifications

Private LTE

Regions

U.S. only

Public Safety Networks

Verizon Frontline

Firewall Throughput

850 Mbps

VPN Tunnel Count

10

Wi-Fi

Dual-band, dual-concurrent; 802.11ac Wave 2 (Wi-Fi 5)

GNSS/GPS

1 x SMA GNSS antenna connector

PoE

No

Operating Temperature

-30 °C to 70 °C (-22 °F to 158 °F)

Rack Mountable

No

Size

118 x 113.5 x 29.3 mm (4.6 x 4.5 x 1.2 in)

Weight

0.40 kg (14 oz)
Enterprise-Class Modem Specifications
Specification
R500-PLTE FOR IOT
Technology
Cat 7 Advanced LTE (3GPP Rel. 12)

Dual SIM slots, mini 2FF form factor
Private LTE CBRS SIM cards only

Peak Downlink Rates
300 Mbps
Peak Uplink Rates
75 Mbps
MIMO
2x2 MIMO
QAM
Up to 64
LTE Bands
LTE TDD
Power
LTE 23 dBm ± 1, DC-HSPA+ 23 dBm ± 1 (typical conducted)
Antennas
SMA and RP-SMA male plugs, maximum torque not to exceed 4 in-lbs
GNSS/GPS
Active GNSS

GPS, GLONASS, BeiDou, Galileo
DC voltage bias supplied (typical 3.1v)

Regulatory
FCC Part 96
Private LTE
Yes, includes FCC Part 96 (CBRS OnGo Band 48)
Pricing Note:
Pricing and product availability subject to change without notice.
Cradlepoint Products
NetCloud IoT Plans
NetCloud IoT Essentials Plan for Private Cellular Networks, and R500 Router with Wi-Fi (300 Mbps modem), with AC power supply and antennas, 3 years
#TD03-0500C7C-NN
Our Price: $626.00
NetCloud IoT Essentials Plan for Private Cellular Networks, and R500 Router with Wi-Fi (300 Mbps modem), with AC power supply and antennas, 5 years
#TD05-0500C7C-NN
Our Price: $790.00
NetCloud IoT Essentials Plan, Advanced Plan for Private Cellular Networks, and R500 Router with Wi-Fi (300 Mbps modem), with AC power supply and antennas, 3 years
#TDA3-0500C7C-NN
Our Price: $831.00
NetCloud IoT Essentials Plan, Advanced Plan for Private Cellular Networks, and R500 Router with Wi-Fi (300 Mbps modem), with AC power supply and antennas, 5 years
#TDA5-0500C7C-NN
Our Price: $968.00
NetCloud IoT Advanced Plan for Private Cellular Networks (requires corresponding Essentials packages), 1 year
#TD01-NCADV
Our Price: $71.00
NetCloud IoT Advanced Plan for Private Cellular Networks (requires corresponding Essentials packages), 3 years
#TD03-NCADV
Our Price: $213.00
NetCloud IoT Advanced Plan for Private Cellular Networks (requires corresponding Essentials packages), 5 years
#TD05-NCADV
Our Price: $355.00
NetCloud IoT Plans- Renewal
NetCloud IoT Essentials for Private Cellular Networks, 1 year
#TD01-NCESS-R
Our Price: $85.00
NetCloud IoT Essentials for Private Cellular Networks, 3 years
#TD03-NCESS-R
Our Price: $255.00
NetCloud IoT Essentials for Private Cellular Networks, 5 years
#TD05-NCESS-R
Our Price: $425.00
NetCloud IoT Advanced Upgrade for Private Cellular Networks, 1 year
#TD01-NCADV-R
Our Price: $71.00
NetCloud IoT Advanced Upgrade for Private Cellular Networks, 3 years
#TD03-NCADV-R
Our Price: $213.00
NetCloud IoT Advanced Upgrade for Private Cellular Networks, 5 years
#TD05-NCADV-R
Our Price: $355.00
NetCloud IoT Essentials and Advanced Upgrade for Private Cellular Networks, 1 year
#TDA1-NCEA-R
Our Price: $156.00
NetCloud IoT Essentials and Advanced Upgrade for Private Cellular Networks, 3 years
#TDA3-NCEA-R
Our Price: $468.00
NetCloud IoT Essentials and Advanced Upgrade for Private Cellular Networks, 5 years
#TDA5-NCEA-R
Our Price: $780.00