Cradlepoint CP Secure VPN

The Instant and Scalable Virtual Private Network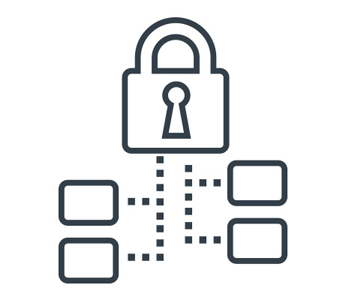 Sorry, this product is no longer available, please contact us for a replacement.
Overview:
The Problem: Complex Hardware-Based VPNs
Back office VPN concentrators are costly and time consuming to deploy. Fixed VPN 'head end' hardware solutions are capital intensive and have long lead times for distributed enterprises. IT managers need to secure their expanding edge networks using architectures that scale quickly and are easy to maintain.
The Solution: Scalable, Cloud-Based Security
Configured, deployed, and managed from the cloud, CP Secure VPN delivers a virtual private data network that minimizes both cost and complexity. Unlike traditional bulky head-end concentrator hardware solutions, CP Secure VPN allows you to:
Prevent untrusted access with mutual X.509 authentication on TLS
Assign the same IP address to multiple end points for seamless failover in business continuity applications
Pay for what you need (new end-points can be set up in minutes with no back office IT effort)
Secure back office connectivity with easy-to-use web-based admin tools
Rapidly deploy and scale to meet demand—without hardware costs or lead times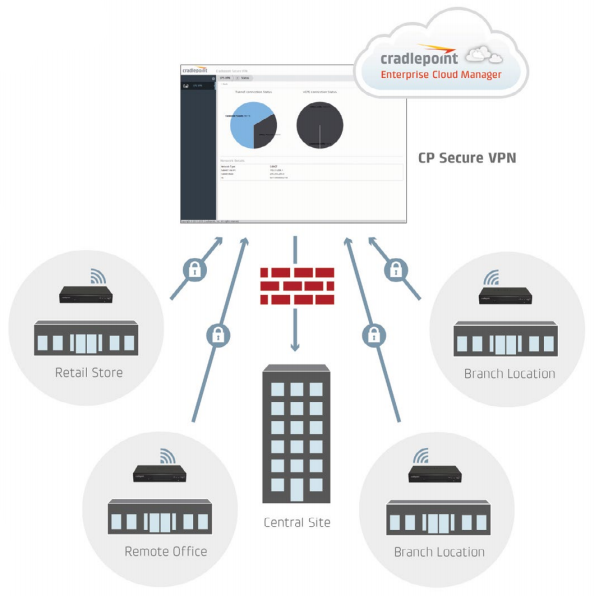 Features and Benefits:
Features
Secure/private access to your corporate Intranet from branch offices
Set up/maintain networks in minutes—no special skills required
Supports any access transport (Wired/Wireless/Metro-E/Satellite)
Simple console integrated with Enterprise Cloud Manager
Instantly & infinitely scalable, rightsized for your business needs
Unique ability to assign the same IP address to multiple endpoints for failover
Simple NAT VPN or GRE tunnel based VPN for secure edge network
Use any SIM (carrier agnostic)
Benefits
Saves on capital and operational expenses to build & manage complex Head End VPN concentrators
Simple to set up, easy to maintain sophisticated security controls
Provides consistent architecture over any network—globally
Pay only for what you use to match your business requirements
Manage your network in one place
UTM Solution:
When purchased with Zscaler Internet Security, CP Secure Threat Management delivers a complete hybrid (On-Premise/Cloud-Managed) UTM Solution.
A Layered Security Approach for Defense In-Depth:
Best-of-Breed Security Partners (Zscaler, Trend Micro, Asavie)
Single management console
Ideally sized for distributed enterprises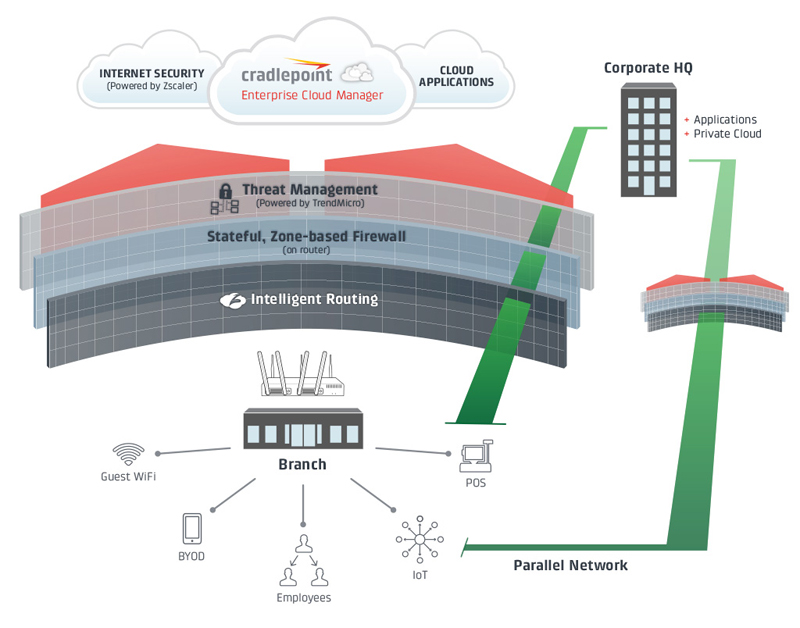 Specifications:
Supported Routers
AER3100 Series
AER2100 Series
AER1600 Series
COR IBR1100 Series
COR IBR600 Series
ARC MBR1400v2