Cradlepoint IBR1700

Cloud-Managed Networking for Police Vehicles, Ambulances, Buses, Fleets & More

Cradlepoint Products
CradlePoint IBR1700
NetCloud Mobile Essentials Plan and IBR1700 router with Wi-Fi (600 Mbps modem), 1 year
#MA1-1700600M-NNA
Our Price: $1,615.00
NetCloud Mobile Essentials Plan and IBR1700 router with Wi-Fi (600 Mbps modem), 3 years
#MA3-1700600M-NNA
Our Price: $1,934.00
NetCloud Mobile Essentials Plan and IBR1700 router with Wi-Fi (600 Mbps modem), 5 years
#MA5-1700600M-NNA
Our Price: $2,288.00
Click here to jump to more pricing!
Overview:
For organizations that depend on field forces and mobile networks—like first responders, transportation departments, utility crews, insurance disaster teams, and many others—secure and reliable 4G LTE connectivity is essential. Vehicles and mobile command centers have become the field communications hub, allowing users to access mission-critical applications and the Internet from anywhere, and keeping data flowing to the cloud from on-board telemetry, sensors, surveillance cameras, and other devices.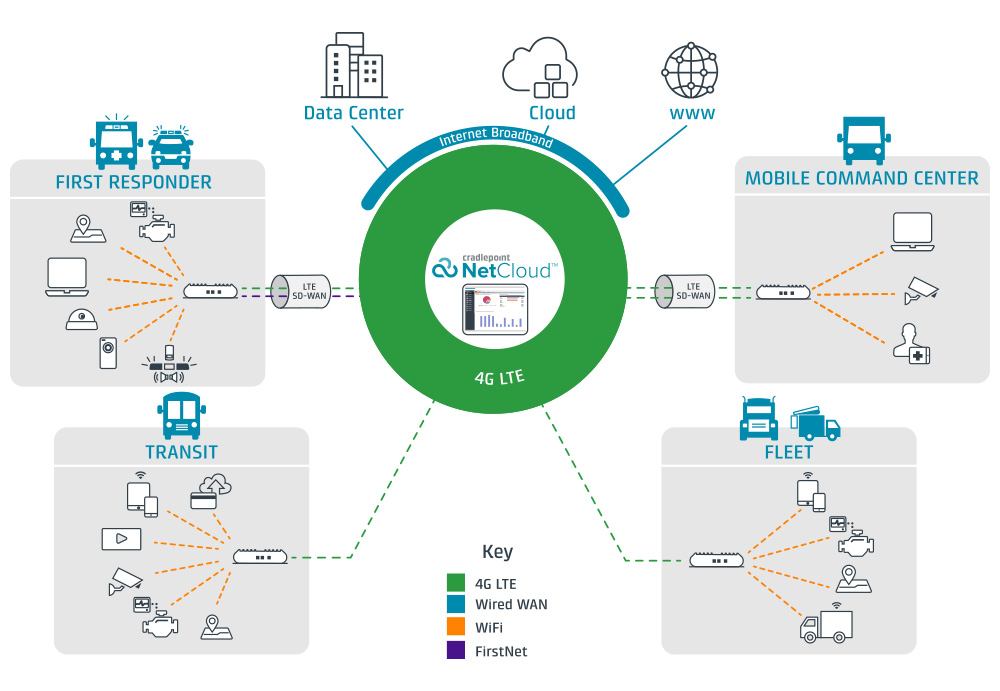 Cradlepoint's Elastic EdgeSM vision provides a blueprint for next-generation mobile networks that deliver pervasive connectivity, cloud-like agility, and software extensibility with enterprise-class visibility, security, and control. All-inclusive NetCloud Solution Packages for Mobile Networks, based on COR Series routers, are flexible, reliable, and cloud-managed.
Ruggedized All-in-One Solution
Purpose-built to withstand extreme environments, the COR Series replaces multiple "boxes" with a ruggedized, all-in-one mobile network solution that is ideal for in-vehicle and command center installations. Each model supports up to two 4G LTE modems, a multi-port Ethernet switch, 802.11ac WiFi, GPS, and ports for ignition and sensor integration. The Linux-based NetCloud OS software provides advanced routing, SD-WAN for LTE, and security functionality. Everything is simple to configure, orchestrate, and manage from the cloud using NetCloud Manager.
Mobile SD-WAN
Cradlepoint brings the reliability and efficiency of SD-WAN technology to mobile networking. NetCloud OS optimizes multi-link 4G LTE connectivity and combines application-based visibility, security, and control with dynamic, policy-based traffic steering based on cellular signal strength, throughput, latency, and data plan consumption. Other unique features include Auto-QoS, intelligent selection of carriers and APNs, and the ability to persist application sessions during periods of temporary signal loss.
GPS & Telematics Integration
Precision GPS and telematics integration enable a wide range of location-based applications, such as Automatic Vehicle Location (AVL), asset tracking with geofencing, and vehicle performance data. With secure data center and cloud connectivity and real-time data, fleet and field managers have a wealth of actionable data at their fingertips to make better-informed decisions—saving time and money while improving business outcomes.
Unified Internet Security
Many mobile networks require strong Internet security for on-board public WiFi and cloud application access. NetCloud OS integrates Unified Threat Management (UTM) for direct Internet access with multi-zone firewall, IPS/IDS and content filtering, as well as Federal Information Processing Standard (FIPS) 140-2 support for public safety and government agencies. Cradlepoint's unified and cloud-managed approach to mobile network security reduces cost and minimizes risks by eliminating extra hardware, increasing visibility and control, and delivering continuous security updates.
Connect & Protect Mobile & IoT Devices
Many field forces utilize laptops, tablets, and smartphones that are not always connected to a secure mobile network. Deploying NetCloud Perimeter Client on these devices allows users to access the data center and cloud from any Internet connection over a perimeter-secured and encrypted cloud network. For on-board IoT devices such as sensors, cameras, and digital signage, NetCloud Perimeter Gateway on the router provides secure, persistent device-to-cloud connections that can be set up in minutes and are self-optimizing.
Cloud Management Optimized for LTE
NetCloud Manager makes it easy to configure, deploy, and manage a mobile network from anywhere with minimal impact on cellular data, thanks to Cradlepoint's efficient Stream management protocol that is optimized for LTE. Additionally, advanced analytics provide comprehensive visibility into cellular, application, and WiFi utilization and security—all from a single web console. Now IT organizations can do more with less resources than ever before.
Cradlepoint Mobile Solutions are First Responder Ready
As public safety and first responder organizations around the country begin to move to public safety wireless networks such as FirstNet®, they can rely on Cradlepoint for their in-vehicle connectivity solutions. A trusted provider of mobile solutions for state and local organizations around the US, Cradlepoint is proud to connect and serve our nation's first responders, giving them reliable and rugged solutions that they can count on.
Extensibility Dock
Mobile deployments come in all sizes. That is why Cradlepoint offers an Extensibility Dock for the COR IBR900 Series that extends connectivity with a second, modular 4G LTE modem; two Ethernet ports; and programmable, general purpose I/O ports. The Extensibility Dock allows customers to configure the right size solution for each specific deployment, or easily expand a vehicle's capabilities at any time as uptime or connectivity needs change.
Features:
WAN:
Dual-modem capable with MC400 modem slot for 2nd modem
600M: LTE Advanced 600 Mbps LTE/HSPA+ (SIM-based, Auto-carrier Selection for all North American, European, and Asia Pacific carriers; includes support for 700 MHz Band 28 in Asia Pacific)
WiFi as WAN, with WPA2 Enterprise Authentication for WiFi as WAN2
3rd radio for dedicated back haul
WiFi client mode
Failover/Failback
Load Balancing
Advanced Modem Failure Check
WAN Port Speed Control
WAN/LAN Affinity
IP Passthrough
Standby
Multi-PDN
Smart WAN Selection
Serial PAD mode
DynDNS
AutoQoS
QoS (DSCP and Priority Queuing)
LAN:
VLAN 802.1Q
DHCP Server, Client, Relay
DNS and DNS Proxy
DMZ
Multicast/Multicast Proxy
MAC Address Filtering
STP2
GPS broadcast to LAN
WIFI:
Dual-Band, Simultaneous Tri Band 2×2 2.4GHz + 2×2 5GHz + 4×4 5GHz WiFi
802.11 a/b/g/n/ac wave 2 MU-MIMO and 256 QAM support
Up to 192 connected devices (64 per radio – one @ 2.4 GHz and two @ 5 GHz)
Multiple SSIDs: 2 per radio (6 total)
WPA2 Enterprise (WiFi)
Hotspot/Captive Portal
SSID-based Priority
Client Mode for faster data offload
MANAGEMENT:
Cradlepoint NetCloud Manager

Secure remote cloud configuration
Real-time diagnostics/troubleshooting
Remote connect / Out-of-Band Management
Geoview location services
Pool data alerts

Client and Traffic Visibility and Control
Web UI, API, CLI
Active GPS support
Data usage alerts
Advanced troubleshooting (support)
Device alerts
SDK support
SNMP
SMS control
Serial redirector
Auto APN Recovery
Syslog
VPN & ROUTING
IPsec Tunnel – up to ten concurrent sessions
IKEv2 support (includes MOBIKE)
OpenVPN (SSL VPN)
L2TP
GRE Tunnel
OSPF/BGP/RIP
Route Filters (Access Control Lists, Prefix Filters, Route Maps, Communities for BGP)
Policy-based Routing
Per-Interface Routing
Static Routing
NAT
NAT-less Routing
WAN Affinity
Virtual Server/Port Forwarding
VTI Tunnel Support
NEMO/DMNR
IPv6
VRRP
STP
NHRP
OpenVPN support
SECURITY:
RADIUS and TACACS+ support
NetCloud Perimeter compatible
802.1x authentication for Ethernet
Certificate support
Application-level gateways
MAC Address Filtering
Zscaler Internet Security Compatible
Advanced Security Mode (local user management only)
Specifications:
Cradlepoint IBR1700 Series Specifications
WAN

Dual-modem capable with MC400 slot
Integrated 600M LTE Advanced 600 Mbps modem (with DC-HSPA+ failover)
Five LAN/WAN switchable 10/100/1000 Ethernet ports – one default WAN (cable/DSL/T1/satellite/Metro Ethernet)
WiFi as WAN, Metro WiFi; 2×2 MIMO "N" 2.4 GHz or 4×4 5 GHz; 802.11 a/b/g/n/ac wave 2

LAN

Simultaneous Tri-Band WiFi; 802.11 a/b/g/n/ac wave 2
Five LAN/WAN switchable 10/100/1000 Ethernet ports – four default LAN

Ports

Power + GPIO (1 input / ignition sense input, 1 output)
20-pin power + GPIO port:

Alternate DC power input
Two analog inputs
One input / ignition sense input
Four configurable input/output
One low current 5V output (50mA max)

USB 2.0
Five Ethernet LAN/WAN
Two cellular antenna connectors (SMA)
One active GPS antenna connector (SMA)
Six WiFi antenna connectors (R-SMA)

Temperature
-30 °C to 70 °C (-22 °F to 158 °F) operating
Humidity (non-condensing)

5% to 95% operating
5% to 95% storage

Power

DC input steady state voltage range: 9–33VDC (requires 5.0A inline fuse for vehicle installations)
Reverse polarity and transient voltage protection per ISO 7637-2
Ignition sensing (automatic ON and time-delay OFF)

WIFI POWER (FCC):

2402–2483.5 MHz (2.4 GHz band): 29.2 dBm conducted
5150–5250 MHz (5 GHz band 1): 29.0 dBm conducted
5725–5850 MHz (5 GHz band 3): 30.0 dBm conducted

Accessories

Power & Mounting

US line cord Part #: 170623-001

ANTENNAS – 3G/4G Modem, WiFi, & GPS:

700 MHz – 2700 MHz Wide Band Directional Antenna (Yagi/Log- Periodic) Part #: 170588-000
12" Mag-Mount Antenna with SMA Male Connector Part #: 170605-000
4" Mini Mag-Mount Antenna with SMA Male Connector Part #: 170606-000
2.4/5 GHz Dual-band, Dual-concurrent WiFi Antenna Part #: 170628-000 (WiFi models only)
Universal 3G/4G/LTE Modem Antenna Part #: 170649-000
GPS Screw-Mount Antenna Part #: 170651-000

VEHICLE ANTENNAS:

Low Profile 5-in-1 MIMO LTE, MIMO WiFi (2.4/5 GHz), & GPS Screw Mount Antenna with 5M Cables Part #: 170654- 001
Software: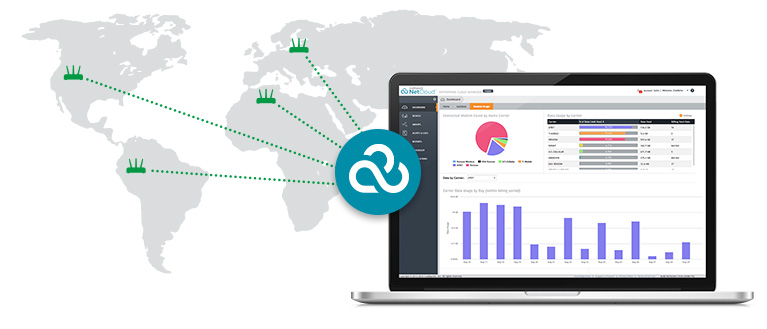 Cloud Networking for Branch Office, Retail, and More
Cradlepoint's NetCloud platform includes an industryleading router operating system, an award-winning management platform optimized for cellular, and virtual private cloud networking. When combined with Cradlepoint routers, this integrated platform of flexible, extensible, and rapidly deployable applications enables an entirely new way to easily build, secure, control, and manage end-to-end private networks in the cloud.
NetCloud OS
Firewall, Advanced Routing-Optimized for LTE
NetCloud OS is the heart of our industry-leading LTE routers. Sustained commitment to new features and capabilities ensures your network is always up to date and secure.
NetCloud Manager
Quickly Deploy, Manage & Monitor Your Network
NetCloud Manager is a cloud management service that enables zero-touch deployment, remote management, alerting, and network analytics for all Cradlepoint routers.
NetCloud Engine
Software-Defined. Security-Driven. Cloud-Delivered.
NetCloud Engine leverages SoftwareDefined Networking (SDN) to instantly create secure Virtual Cloud Networks over more cost-effective wired and wireless broadband Internet services.
Security Applications
Enhance network security with best-in-class applications from Cradlepoint Technology Partners. Create, deploy, and manage network security applications at remote locations with the Cradlepoint NetCloud platform. Improve productivity, reduce costs, and enhance the security intelligence of your network.
Zscaler Internet Security
Configured in minutes, best-inclass Zscaler Internet Security protects your organization from web-based threats.
CP Secure Threat Management
A comprehensive intrusion prevention and detection system (IPS/IDS) for full defense-in-depth.

AER Platform Extensibility
Cradlepoint Extensibility enables customers and developers to build one-of-a-kind applications and vertical solutions by extending key elements of the Cradlepoint platform. By leveraging our hardware, firmware, and cloud services, developers can add differentiation and unique value to the solutions they offer.
Router SDK (Open Beta)
Build custom vertical applications securely running at the Edge, protected on device, and deployed through the cloud. Manage, deploy, and monitor customer Edge applications from the cloud across the entire fleet.
NetCloud API
Cradlepoint's API provides the building blocks developers need to craft applications that access the data from a software platform.
Developer Community (Open Beta)
The Cradlepoint Developer Community enables members to leverage knowledge, share, and collaborate with other developers.
CradleCare Support:

From initial device deployment to long-term operations, Cradlepoint Global Support offers world-class resources and expertise to keep your network secure, simple and efficient. Cradlepoint offers multiple tiers of support to provide you exactly what you need.
With Cradlepoint Global Support and CradleCare, you can:
Maximize revenue through always-on uptime and response times
Save time with our web-based Connect Portal and Knowledge Base
Collaborate with our multi-certified technical team
Maintain PCI Compliance with up-to-date router and modem firmware
The following chart provides an overview of Cradlepoint's support and maintenance offerings:
Included with every Cradlepoint purchase
CradleCare Basic
CradleCare

Web-based Cradlepoint Connect Portal:

24x7x365 access to our Knowledge Base and Firmware download library
12x5 email support (for Enterprise Cloud Manager and NetCloud Gateway only)
Knowledge Base access
Firmware upgrades
Standard warranty with extended warranty options

Included +

Covers all products and services
12x5 phone, email and chat support for Cradlepoint routers, ECM and NetCloud Gateway
Knowledge Base access
Firmware upgrades
Standard warranty with extended warranty options

CradleCare Basic +

24x7 qualified phone support and 12x5 email/chat support for Cradlepoint routers, ECM and NetCloud Gateway
Advanced Exchange: Next business day replacement
Service level targets
Assigned Enterprise Support Engineer (for deployments of 50 routers or more)
Enterprise engineering resources for network design and best practices implementation
Priority consideration of future feature requests and beta trials
Knowledge Base access
Firmware upgrades
Extended Warranty for routers for the term of CradleCare license
Extended Warranties
Extended Warranties can be purchased in subsequent years, and as a follow-on warranty at the conclusion of the standard warranty period. No gap in coverage is allowed: the new warranty must be in place before the existing warranty expires.
Standard One-Year Warranty (With Extended Warranty Option) Includes:
Access to Cradlepoint Connect portal and Knowledge Base
Hardware repair/replacement with 3-5 day shipping
Software bug fixes
An option to extend your warranty to 2, 3, or 5 years at the conclusion of the standard warranty period*
*Hardware warranties cannot be extended beyond 5 years from the date of purchase.
Pricing Note:
Pricing and product availability subject to change without notice.
Enterprise Cloud Manager is required for centralized management and to enable networking applications
CradleCare Support is required for access to Cradlepoint Technical Assistance Center (TAC) on all products and services
Cradlepoint Products
CradlePoint IBR1700
NetCloud Mobile Essentials Plan and IBR1700 router with Wi-Fi (600 Mbps modem), 1 year
#MA1-1700600M-NNA
Our Price: $1,615.00
NetCloud Mobile Essentials Plan and IBR1700 router with Wi-Fi (600 Mbps modem), 3 years
#MA3-1700600M-NNA
Our Price: $1,934.00
NetCloud Mobile Essentials Plan and IBR1700 router with Wi-Fi (600 Mbps modem), 5 years
#MA5-1700600M-NNA
Our Price: $2,288.00
NetCloud Mobile Essentials Packages
NetCloud Mobile Essentials Plan and IBR1700 router with Wi-Fi (1200 Mbps modem), 1 year
#MA1-1700120B-NNA
Our Price: $1,899.00
NetCloud Mobile Essentials Plan and IBR1700 router with Wi-Fi (1200 Mbps modem), 3 years
#MA3-1700120B-NNA
Our Price: $2,205.00
NetCloud Mobile Essentials Plan and IBR1700 router with Wi-Fi (1200 Mbps modem), 5 years
#MA5-1700120B-NNA
Our Price: $2,548.00
NetCloud Advanced for Mobile Routers
NetCloud Mobile Advanced Plan (requires corresponding Essentials Plan), 1 year
#MA1-NCADV
Our Price: $142.00
NetCloud Mobile Advanced Plan (requires corresponding Essentials Plan), 3 years
#MA3-NCADV
Our Price: $426.00
NetCloud Mobile Advanced Plan (requires corresponding Essentials Plan), 5 years
#MA5-NCADV
Our Price: $710.00
Renewal NetCloud Essentials for Mobile Routers (Prime)
Renewal NetCloud Mobile Essentials Plan, 1 year
#MA1-NCESS-R
Our Price: $212.00
Renewal NetCloud Mobile Essentials Plan, 3 years
#MA3-NCESS-R
Our Price: $636.00
Renewal NetCloud Mobile Essentials Plan, 5 years
#MA5-NCESS-R
Our Price: $1,060.00
Renewal NetCloud Advanced for Mobile Routers (Enterprise)
Renewal NetCloud Mobile Essentials Plan and Advanced Plan, 1 year
#MA1-NCADV-R
Our Price: $142.00
Renewal NetCloud Mobile Essentials Plan and Advanced Plan, 3 years
#MA3-NCADV-R
Our Price: $426.00
Renewal NetCloud Mobile Essentials Plan and Advanced Plan, 5 years
#MA5-NCADV-R
Our Price: $710.00